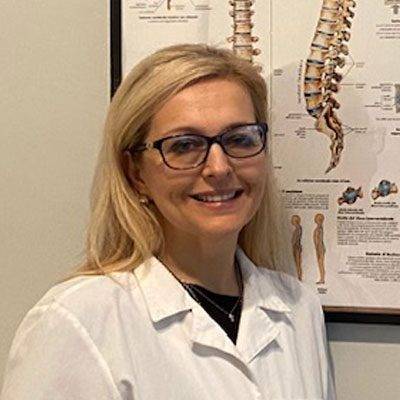 Chiropractor
Kristi Mauldin D.C.
Hi! I'm Dr. Kristi Mauldin and I've been practicing chiropractic for 20 years since 1999. I have practiced in California and North Carolina and was also licensed in Florida. I still own an office in North Carolina. I first came to visit Italy in 2003 and fell in love with everything about this country and visited numerous times over the years, with intentions to move here one day.
Finally, last year in 2018, I decided to take the plunge and leave my practice, my home state of NC and all of my family to start a new life and raise my children here in Milan.
I love the Italian people, the culture, the way of life, and of course the food and wine! I'm so happy to call Milan my home and to be able to bring all of my chiropractic and health experiences here to this great city.
Over the last 20 years and more, I have studied a very wide variety of chiropractic techniques and alternative health approaches. Within chiropractic alone, I have studied Network Spinal Analysis, Activator, Sacro-Occipital Technique (SOT), Bio-energetic synchronization technique (BEST), Toggle, Extremities, Gonstead, Drop Table, Pediatrics and in the end have combined it all to do my own technique. For the last 10 years or so, I started focusing more heavily into functional medicine and functional neurology. I have worked very closely with many diabetic and neuropathy patients, as well as those with hand/foot pain, knee pain, and shoulder pain and have had great success there. I have had over 600 hours in functional neurology courses and another 300 or so in functional medicine, as well as many other seminars over the years. I look forward to seeing you in my office.
Dr. Mauldin CV:
1992 Bachelor's Science in Psychology/Sociology - University of NC at Greensboro
1999 Life Chiropractic College West - Doctor of Chiropractic Degree
1999 Lytton Avenue Chiropractic
2000-2018 Lexington Family Chiropractic Center, PA in North Carolina - owner
2012- present Brentwood Chiropractic in North Carolina - owner
Seminars/Education:
1996-1999 Gonstead, SOT, Extremities, BEST,
1996 - 2006 Network Spinal Analysis
2000-2008 Standard Process & Foot Levelers
2009-2017 Apex Nutrition Seminars
2015 AFNI functional neurology 100 hours
2015-2017 Trigenics Seminars
2015 - present Carrick Institute functional neurology 300+ hours
2016-2017 Functional Neurology Seminars 150 hours
2017 Functional Medicine University
2019-present Kharrazian Institute
Chiropractic Associations:
International Chiropractic Association - past
North Carolina Chiropractic Association - past
Florida Chiropractic Association - past
Associazione Italiani Chiropratici - 2018- present
Chiropractic Licenses:
California 1999-2004
Florida 2004-2017
North Carolina 1999-present
Chiropractor
Alicia Ahern D.C.
Hi! I'm Dr Alicia Ahern and I'm an Australian chiropractor now living in Milan after relocating here with my husband in December 2021. It was after a 3 week trip to Italy in 2019, when we absolutely fell in love with the whole package; the beautiful country, people, culture, history, food, wine and lifestyle; that we decided we had to live here!
I've always been interested in health, helping people and being hands on; this is what led me to follow a flourishing career in Chiropractic. Graduating with distinction in a chiropractic double degree from Murdoch University in 2011, I took my insight and genuine love for chiropractic across the globe, volunteering as a student for "Hands on India"; providing free chiropractic care to those in need, as well as "Go Global" with Curtin University; providing care, support and education to an orphanage in Ukraine. It was during these opportunities that I witnessed the changes and effects that chiropractic can have on health, and it was these experiences that truly ignited my passion for chiropractic. I have been practicing in Australia ever since.
I have a very special interest in pregnancy and pediatrics. I am dedicated to creating healthier future generations and I strive to lead families to better health. In 2019, I completed my one-year certificate in the diplomat program through the Australian College of Chiropractic Pediatrics and intend to complete my second year of the diploma when possible.
With the amazing intricacies of the human body, I view each body as a unique puzzle and enjoy solving the many complexities and pieces; finding what else I can do to create optimal function in each person I see. I am experienced in Diversified chiropractic adjusting techniques, Drop Piece, Activator, and Mechanical Blocking. I supplement these techniques with cranial and fascial work, Webster's for pregnancy, Thompson, Kinesio taping, ABC, and Trigenics when required, and I attend multiple seminars each year, to further help people in achieving their health goals.
I look forward to helping you and your family in our wonderful clinic!
CV:
2011 - Bachelor in Chiropractic Science
2011 - Bachelor in Chiropractic
2012 - 2013 Straight Forward Chiropractic
2013 - 2015 Health Shack Rockingham
2015 - 2021 Beechboro Chiropractic and Wellness Centre
2020 - Certificate of Chiropractic Pediatrics from Australian College of Chiropractic Pediatrics
Seminars:
2011 – 2015 Dynamic Growth Experience
2011 - 2015 Chiropractic Association of Australia Conferences
2012 - Inspiral Seminars (Pediatrics and Pregnancy)
2012 - Essentials of Working with Children
2013 - Elevate Your Game (Sports Chiropractic)
2013 - Parker Seminar
2013 - ABC Basics
2013 - Thompson Technique
2013 - CLAAST Advanced Subluxation Training
2014 - ScoliCare Scoliosis Seminar
2014 - 2020 Metagenics (Supplementation + Nutrition) Seminars
2014 - NIP Adjusting the Child
2015 - Integrative Biotensegrity
2016 - Brainhub Academy – Advanced Protocols for the Dizziness + Cervical Pain Patient
2016 - Carrick Course Pain, Head + Face Pain
2018 - Bio-Geometric Integration I
2019 - Deneroll Industries Seminar (Posture + Scoliosis)
2019 - Sleep Science (Pediatrics)
2021 - Brainhub Academy - Vestibular Rehabilitation of Scoliosis
2020 + 2021 Australian College of Chiropractic Pediatrics Annual Conferences – online
Chiropractic Associations:
2010 – present Australian Chiropractic Association
2012 – present Australian Spinal Research Foundation
2019 – present Australian College of Chiropractic Pediatrics
2022 – present Associazione Italiana Dottori in Chiropratica
Chiropractic Licenses:
2011 – present Australia
2011 – present Australian Radiography (Chiropractic Restricted) License
OFFICE HOURS
---
Monday
10:00 - 13:00
14:30 - 18:30
---
Tuesday
10:00 - 13:00
14:30 - 18:30
---
Wednesday
15:00 - 18:30
---
Thursday
10:00 - 13:00
14:30 - 18:30
---
Friday
Closed
---
Saturday & Sunday
Closed