Chiropractor Kristi Mauldin D.C.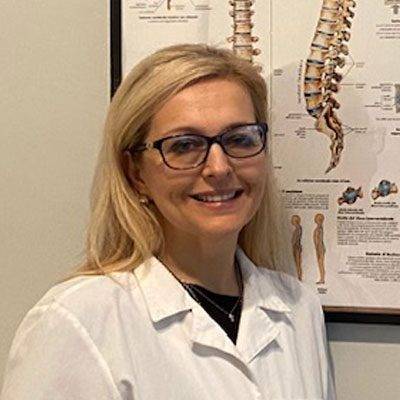 Hi! I'm Dr. Kristi Mauldin and I've been practicing chiropractic for 20 years since 1999. I have practiced in California and North Carolina and was also licensed in Florida. I still own an office in North Carolina. I first came to visit Italy in 2003 and fell in love with everything about this country and visited numerous times over the years, with intentions to move here one day.
Finally, last year in 2018, I decided to take the plunge and leave my practice, my home state of NC and all of my family to start a new life and raise my children here in Milan.
I love the Italian people, the culture, the way of life, and of course the food and wine! I'm so happy to call Milan my home and to be able to bring all of my chiropractic and health experiences here to this great city.
Over the last 20 years and more, I have studied a very wide variety of chiropractic techniques and alternative health approaches. Within chiropractic alone, I have studied Network Spinal Analysis, Activator, Sacro-Occipital Technique (SOT), Bio-energetic synchronization technique (BEST), Toggle, Extremities, Gonstead, Drop Table, Pediatrics and in the end have combined it all to do my own technique. For the last 10 years or so, I started focusing more heavily into functional medicine and functional neurology. I have worked very closely with many diabetic and neuropathy patients, as well as those with hand/foot pain, knee pain, and shoulder pain and have had great success there. I have had over 600 hours in functional neurology courses and another 300 or so in functional medicine, as well as many other seminars over the years. I look forward to seeing you in my office.
1992 Bachelor's Science in Psychology/Sociology - University of NC at Greensboro
1999 Life Chiropractic College West - Doctor of Chiropractic Degree
1999 Lytton Avenue Chiropractic
2000-2018 Lexington Family Chiropractic Center, PA in North Carolina - owner
2012- present Brentwood Chiropractic in North Carolina - owner
Seminars/Education:
1996-1999 Gonstead, SOT, Extremities, BEST,
1996 - 2006 Network Spinal Analysis
2000-2008 Standard Process & Foot Levelers
2009-2017 Apex Nutrition Seminars
2015 AFNI functional neurology 100 hours
2015-2017 Trigenics Seminars
2015 - present Carrick Institute functional neurology 300+ hours
2016-2017 Functional Neurology Seminars 150 hours
2017 Functional Medicine University
2019-present Kharrazian Institute
Chiropractic Associations:
International Chiropractic Association - past
North Carolina Chiropractic Association - past
Florida Chiropractic Association - past
Associazione Italiani Chiropratici - 2018- present
Chiropractic Licenses:
California 1999-2004
Florida 2004-2017
North Carolina 1999-present
OFFICE HOURS
---
Monday
2:30pm - 6:30pm
---
Tuesday
10:00am - 2:00pm
---
Wednesday
2:30pm - 6:30pm
---
Thursday
10:00am - 2:00pm
---
Friday
Closed
---
Saturday
Closed